Band
Seven Steps To The Green Door
progressive crossover music
actual line up
Marek Arnold (keys, sax, comp) , Ulf Reinhardt (drums, comp)
Anne Trautmann (voc),  Lars Köhler (voc),

Stephan Pankow ( guit ), Michael Schetter ( bass ), Jana Pöche ( vocals )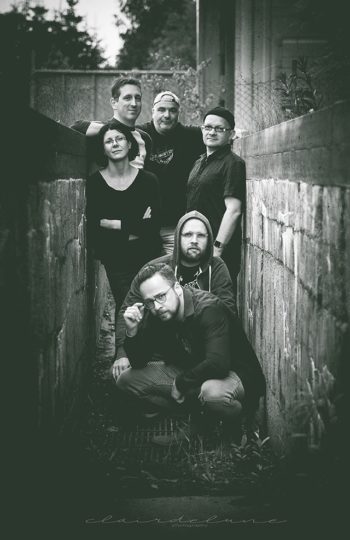 ssttgd 2015:
Martin Schnella (guitar, bass ), Marek Arnold (keys, sax, comp) , Anne Trautmann (voc), Lars Köhler (voc),
Ulf Reinhardt (drums, comp) , Thomas Schulz (live band – voc / keys), Heiko Rehm (live band – bass)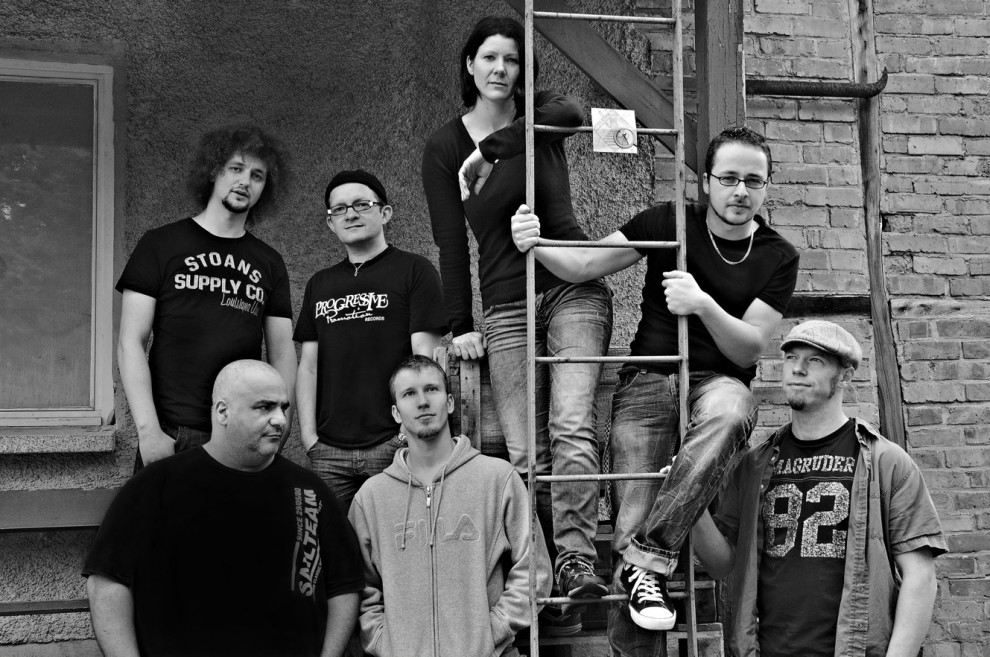 Seven Steps To The Green Door made their mark on the music scene at the German Rock and Pop Awards (2006), the largest and most prestigious band competition in Germany. When a debut album wins first prize in two categories (Progressive and Experimental Rock) it is definitely a band to keep a close eye on. The seven-member band was formed around keyboardist & saxophonist Marek Arnold, who is best known as the frontman for Toxic Smile as well as his work with Flaming Row, United Progressive Fraternity, Stern Combo Meissen and other prominent bands; and drummer Ulf Reinhardt, formerly with Prophets of Prunes. The combined talents of these exceptional artists accounts for this unexpectedly successful first album, The Puzzle (2006) which comprised a wide-variety of style by mixing art-rock, progressive metal, jazz, rap, and pop. With the moderate use of cross-genre stylistic devices, a unique cast of three vocalists, and the courage to blend melody with rhythmic experiments, "Seven Steps To The Green Door" have amplified progressiveness in Progressive Rock.
With the release of Step In 2 My World, (2008) the band pushed their sound to extreme measures: poly-rhythmic meets melodious vocal harmonies, crazy jazz phrases followed by soft ballads, raps breaking through soft melodies – without ever losing sight of the golden thread that meshed the songs together. Additionally, various guests add highlights with classical instruments and vocals, including none other than Larry B., lead singer for "Toxic Smile". Step In 2 My World will delight fans of varied rock music who will discover something new each time they listen to this complex album.
Progressive concept album, THE?BOOK, (2011) is the band's most uncompromising creation so far. The album features, apart from the core band and other musical companions of Marek Arnold – a variety of great guest musicians such as multiple award winning vocal ensemble "Siaella", Larry B. and Flaming Row frontman, Martin Schnella, who has also worked with: Yes, Spock's Beard and Shadow Gallery. Schnella joined Seven Steps To The Green Door for live gigs in 2012. Also, a remarkable point about THE?BOOK, it was one of the first ever progressive rock albums to be converted into an interactive game for iOS–devices (iphone/ipad), programmed by "Glanzkinder".
Seven Steps To The Green Door fans have been excited for release of their next album, of which the final tracks were recorded in Spring/2015. Written by Marek Arnold and Ulf Reinhardt, featuring Martin Schnella on guitar; the editing took place at Mareks, B`side-music studios; mixing was done by Martin Schnella and Marek Arnold at Overlodge Recording Studios; and finally, FETISH has been released by Progressive Promotion Records. You can order your copy at www.ppr-shop.de!
English Translation: www.mymusicmattersmt.com
NEW ALBUM "FETISH"  – released 2015 /09 / 11 –  can be ordered at www.ppr-shop.de. It`s mainly written by Marek Arnold and Ulf Reinhardt again, and the first album, which was arranged already with new guitar player Martin Schnella, who is also contributing bass guitar and great backing vocals and took care of final mix. Released at our label "Progressive Promotion Records" again it features some amazing guests like Arno Menses ( voc, Subsignal ), Dan Mash ( bass, UPF, Maschine, Ex-Tangent), Justo Suarez ( perc)  and Steve Unruh ( UPF, Resistor ) and many others…
After the great success of new album, ssttgd is on FETISH tour until 2017. We already played amazing gigs at festivals like "Night of the Prog" (DE), "Crescendo" (FR) and "Smmers End"  (UK) and other venues in Europe. Hope to see you soon live – please check our live dates.